Certified Age Friendly Employer Program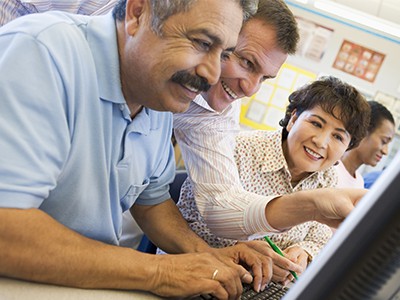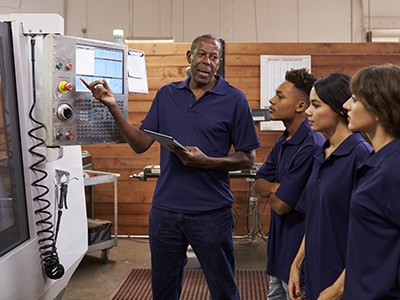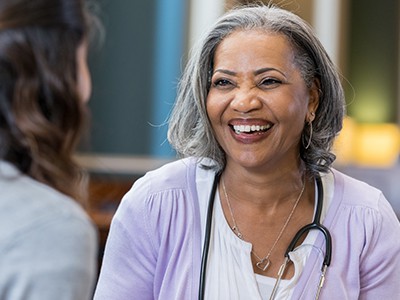 Celebrating 17 Years: Certifying Best Places to Work for Employees 50+
The Age-Friendly Institute's Certified Age Friendly Employer (CAFE) program is the nation's only certification program that identifies organizations committed to being the best places to work for employees aged 50+. Since the Certified Age-Friendly Employer (CAFE) Program was created in 2006, hundreds of leading companies and organizations have earned the distinction of being recognized as a Certified Age Friendly Employer.
Is Age-Friendly Certification Right for Your Organization?
A Certified Age-Friendly Employer:
Values employees based on proficiency, qualifications and contribution
Maintains policies, practices and programs supporting people age 50+
Values employee knowledge, maturity, reliability and productivity
Commits to meaningful employment, development opportunities and competitive pay and benefits for employees 50+
CAFE Program Benefits for Employers:
Opportunity to communicate to existing and prospective employees, and customers, that your workplace welcomes employees of any age
Use of the CAFE digital seal on your own career sites, on postings at other online job sites, and in marketing collateral
Comparative industry feedback and Invitation to the Annual CAFE Conference
Certified Age Friendly Employers
Below is a list of employers that have earned the Certified Age Friendly Employer™ designation
2Life Communities
Adecco
Aegis Living
Aetna
Aging Resources of Douglas County
Allied Universal
Alltown
Altria
Ambassatours
American Heart Association
American Red Cross
Amica Mutual Insurance Company
Amos Pewter
Annapolis Royal Historic Gardens
AnswerNet Network
Aquarium of the Pacific
Arc Community Services
Arc Document Solutions
ARC of Hunterdon County, NJ
ARC Worldwide
Ares Management
Armanino
Ashland, Kentucky
Aspect Foundation
AT&T
Avis Budget
Beaumont Hospital (MI)
Benchmark Senior Living
Blue Cross Blue Shield (Highmark)
Blue Cross Blue Shield (Horizon)
Boston Red Sox
Bright Horizons Family Solutions
Brio Living Services
Carrot Fertility
Chevo Consulting
Citizens Financial Group
City of Ashland, Kentucky
City of Cincinnati
City of Minneapolis
Coach Atlantic Maritime Bus
Coastal Inn of Dartmouth
Comcast Cable Communications
Compass Health
Commonwealth Bank of Australia
Commonwealth of Massachusetts
County of Chesterfield Virginia
Crate & Barrel
CVS Health
Delta Denta
Denver Council of Gov'ts
Digby Pines Resort
Digitas
Eagle Wolfington Leasing Corporation
Elder Services of Merrimack Valley
Equitrans Midstream
Eurofarma
Events East
Express Employment Professionals
Fairhill Partners
Fidelity Investments
FirstGroup America
First Student
FIS Global
Fox Harb'r Resort
Fresenius Medical Care North America
Fresh Market
GoTo Technologies
Grand Pre Wines
H&R Block
HCR ManorCare
Headway Workforce Solutions
Healthcare plus
Hearst Television
Home Depot
Home Helpers
Home Instead Senior Care
Homewatch CareGivers
Honey Baked Ham
Humana
Internal Revenue Service (IRS)
Inverary Resort
Jewish Family Service
John Hancock Financial
Johns Hopkins Medicine
Kelly Services
Kubicki Draper
La Quinta Hotels
Lasell Village
LCNB National Bank
Lee Memorial Health Systems
Leo Burnett Group
Los Angeles County
Macy's
ManpowerGroup
Manulife
Marcus Theatres
Marriott Harbourfront (Halifax)
Marriott Vacation Clubs
Mass General Hospital
Mature Caregivers
McKesson
MetLife
Montefiore Einstein
MPS Staffing
MyNetico
NetBooks
New York Life
New York Presbyterian Hospital
News America Marketing
NRG Services
nVent
NW CO Council of Gov't
NYU Langone Health
Office of Disaster Assistance (SBA)
Old Orchard Inn and Spa
PacificSource
Peace Corps
Penn National Gaming
Pereira Group
Pitney Bowes
Point 32 Health
Port Authority of Allegheny County
PortAuthority
Prince George Hotel
Principal Financial
Publicis Groupe
QualCare
Quest Diagnostics
Randstad
Recreation Equipment Incorporated - REI
ReServe
RetirementJobs.com
Right at Home
Rivers Casino
Robert Half International
Roca
RSM US
Rush Street Gaming
Safeway
Sanofi Brazil
SCAN Health Plan
Schneider National
Scripps Health
Senior Resource Development Agency
ServiceLink
Servicon
Silver Birch Hotels
Silver Diner
Sitel
Sou'Wester Gift & Restaurant Co
Spherion
Spherion Staffing Services
Springpoint Senior Living
Staffmark Group
Staples
Starbucks Coffee
State of Maine
State of Massachusetts
SunTrust Bank
Supermercado São Vicente
Supporting Strategies
Synergy HomeCare
Takeda (Brazil)
Texas Roadhouse
Thai Union North America
The Sou'wester
TMNA Services
Tokio Marine Services
Toys "R" Us
Toys R Us / Babies R Us
TPI Composites
Transportation Security Admin. (TSA)
Travelers
Tufts Health Plan
Twin Cities Public Television
Uber
UCHealth
United Way of Tarrant County
UnitedHealth Group
White Point Resorts
Wolfington Body Co
Vanguard Investments
Verizon
Virtual Financial
VSA Arts of Georgia
Walgreen
Wells Fargo
WellStar Health System
Work At Home Vintage Experts
Xerox
Massachusetts Governor Charlie Baker
"As an employer, the Commonwealth deeply values the contributions of older adults, and today's designation affirms that approach. We thank the Age-Friendly Institute for this recognition."
Secretary of Labor Martin J. Walsh
"Massachusetts is the first state government in the nation to be designated as Certified Age-Friendly Employer... It is a great example of local, state cooperation. I am not surprised it has led to a new, national model."
The Certification Process
Application or Letter of Interest
Employers may submit an evaluation application or letter of interest (see contact information at the bottom of this page).
Process Review Discussion
An Age-Friendly Institute staff member will contact the employer to explain the Certification program and the evaluation process in its entirety.
Participating employers are asked to submit a confidential questionnaire regarding recruiting and employment policies, practices and programs. This questionnaire encompasses the twelve categories of known best practices related to age-friendly employers.
The employer's questionnaire submission is reviewed by the Age-Friendly Institute and follow up discussions are held as appropriate to ensure accuracy and validity. Additional material or information may be requested.
The certification process typically takes 2-3 weeks after submission of an application. Those organizations who do not receive certification are invited to apply again in one year.
Certified employers are listed on the Age-Friendly Institute's website and other promotional vehicles. Certified employers are encouraged to place the seal on their own career sites, on postings at other online sites and in appropriate marketing collateral. Learn more about promoting your Certified Age-Friendly Certification.
They are also encouraged to communicate the designation to current employees, using internal newsletters and by prominently displaying their CAFE Plaque in their company locations.
Renewal and Recertification
Recertification is completed every twenty-four months. In this way, employers seeking to maintain the currency of their certification are assured of a scheduled review.
Ready to apply for certification or want to learn more?
Take the first step toward becoming a
Certified Age Friendly Employer.
"*" indicates required fields
Interested In Bringing This Program
To Your Community?
The Age-Friendly Institute welcomes inquiries from prospective partners who would like to join our Affiliate Program to bring the CAFE program to your state or community.
Please email:  info@agefriendly.org